Want all the thrills of the feeling of freefalling without the sheer terror of hopping out of a plane? iFly Whitby's for you. You've seen the giant tower, you've wondered what it's all about, and now's the time to commit to trying indoor skydiving.

Here are all the tips you need for your first indoor skydiving experience.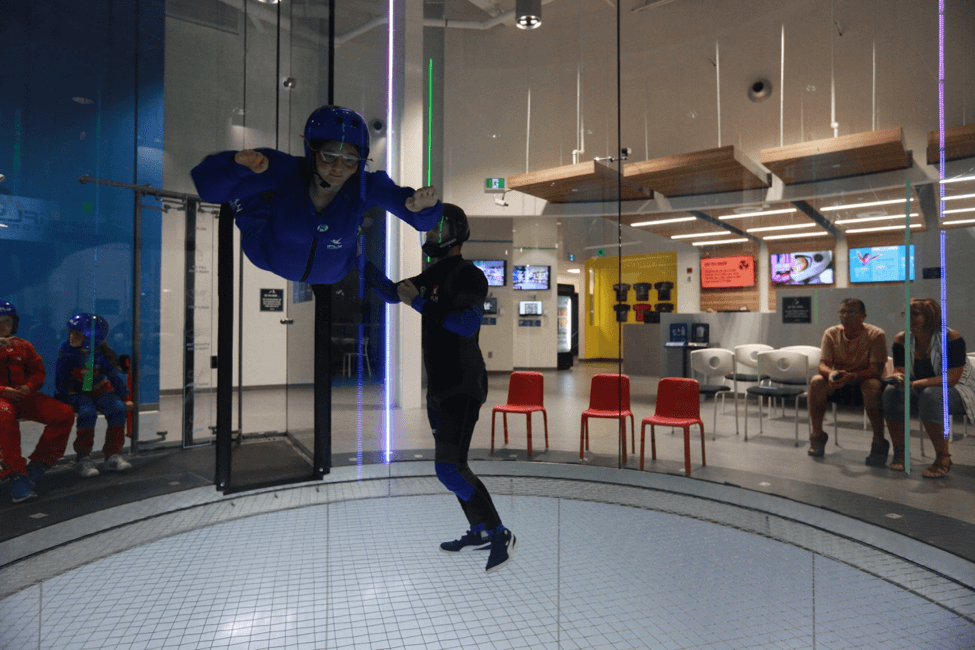 KIDS AS YOUNG AS 4 CAN FLY

But you may not want them to… to be honest, if you want to get your money's worth, waiting until a child can accurately follow the flight instructor's hand signals with ease is a better idea. Think: 8+.

WEAR LACEUP SHOES & COMFY CLOTHING

This is imperative. The force of wind in the tunnel will blow your socks off (literally), so make sure you're wearing tight-fitting, lace-up shoes, and comfy clothes. A flight suit, goggles, earplugs, and helmet will be provided.

TRAINING IS PROVIDED

A well-trained instructor will review a video and positioning with you. They'll go over hand signals they'll use while in the wind tunnel with you, that'll help you get the most out of your flight experience.

IT IS A THRILL, BUT IT ISN'T SCARY

There are no scary ups and downs in the tunnel; it's remarkably stable! The feeling of freefall on your stomach is what you'll be doing during your first flight, and it's absolutely amazing. Great for all ages, assuming you have no back or neck injuries!

IT IS SUPER SAFE

Instructors are well-trained, and the controls for managing your safety while in the wind tunnel are solid. Instructors inside the wind tunnel are in constant contact with the staff adjusting the wind strength, and they're well aware of how important it is to hang onto newbie fliers! You can't fly too high, they'll adjust the wind just for your body weight and skill level.

TIE BACK LONG HAIR

It's no fun having your hair whip around while you're trying to focus on what hand signals the instructor's giving.
YOU CANNOT TAKE PICTURES

iFly offers photo packages so you can take home pics and videos of your flight experience, but absolutely no photos can be taken from inside the tunnel. If you've got friends who are not participating and are sitting in the waiting area, they can take pictures for you, though. But once you're in a flight suit, all loose items will be left in a (free) provided locker.

NO JEWELLERY AT ALL

No earrings, no rings, not a watch… you get the idea. The wind is STRONG. Leave the loose items at home, or in your locker.

TIME FLIES!

Ha, see what we did there? Your time in the tunnel is short, so relax and focus on the fun. Official pics of your first time are so worth it to relive the fun!

BOOK YOUR NEXT FLIGHT BEFORE YOU LEAVE

Not gonna lie, iFly isn't cheap – at $72 for an introductory package, you'll want to take note of any discounts you can find. At the end of your flight, they'll offer you a substantial discount if you prepay your next flight. It's worth it!

You can take a look at the iFly website to get a feel for how it all works, find pricing, and see promos. Be sure to follow iFly Whitby on Instagram, and Facebook, too!